Hi Barbie! If you've got a passion for sewing and an eye for fabulous fashions, you're in for a treat today. We're diving into the plastic and fantastic world of Barbie, the iconic doll who has inspired generations with her timeless elegance and fashionable flair. With the release of the brand new Barbie Movie, we're all buzzing with excitement and creative energy. So, whether you're a Barbie enthusiast, or simply seeking a burst of inspiration, this blog is for you.
Get ready to be swept away by the enchanting world of Barbie as we explore five DIY Barbie Costume ideas to inspire your next sewing adventure.
DIY Barbie Costume Idea 1: Barbie's Gingham Dress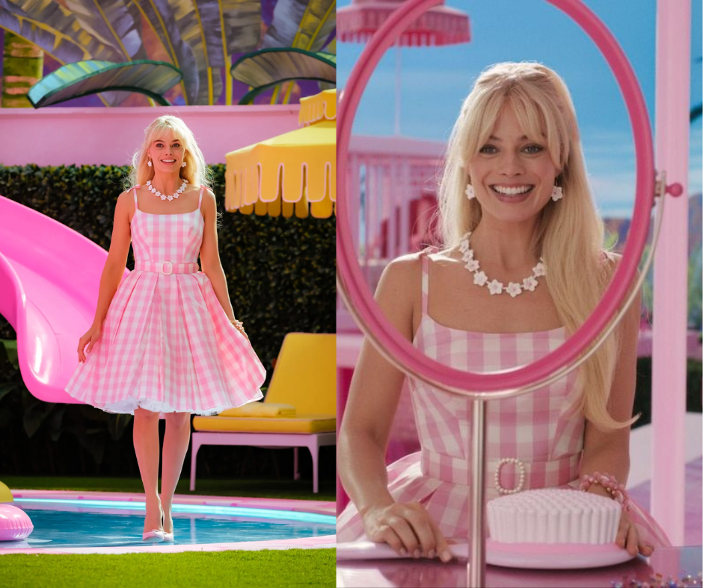 SOURCE: WARNER BROS. PICTURES
Embrace the vintage charm with this sweet pink and white gingham dress featuring a semi-scoop neckline and a full pleated A-line skirt, complemented by a beautiful matching belt. When sewing, you will need to be mindful of the direction of the stripes so that the fabric lines up correctly.
Accessorise with the cutest coordinating daisy chain necklace and drop earrings, and a matching hair bow. Pair with pink heels for a Barbie-inspired look or sneakers for a modern (and comfortable) twist. Grab your pink gingham dress and get ready to have the best day ever in Barbie Land!
P.S. We think this Barbie costume would look gorgeous in any colour!
DIY Barbie Costume Idea 2: Barbie's Cowgirl Set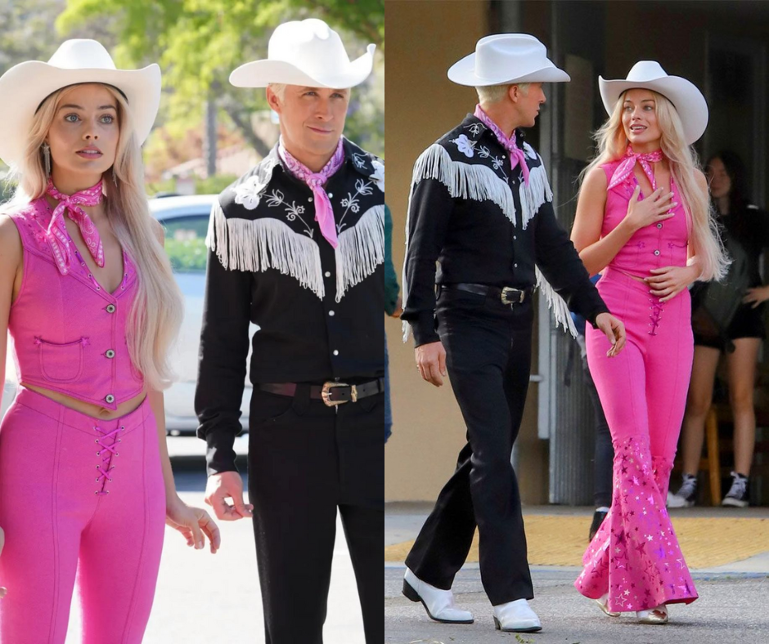 SOURCE: WARNER BROS. PICTURES
Always imagined yourself rocking a western-inspired pink two-piece? Well, so did we!
This eye-catching costume features a matching vest and V-waist flare jeans. Adorned with contrast stitching, embroidery and lots of star embellishments, this has to be our favourite Barbie outfit. Don't forget, when sewing with denim and heavier fabrics to use a Denim Sewing Needle in your machine.
Finish the look like Barbie with a matching pink bandana, white cowgirl hat and stunning white and gold cowgirl boots. Bonus points for a matching Cowboy Ken look! The perfect DIY Barbie outfit for your next costume or cosplay. This outfit will sweep you into a whirlwind of fashion and fun, just like Barbie herself!
DIY Barbie Costume Idea 3: Barbie's Striped Swimsuit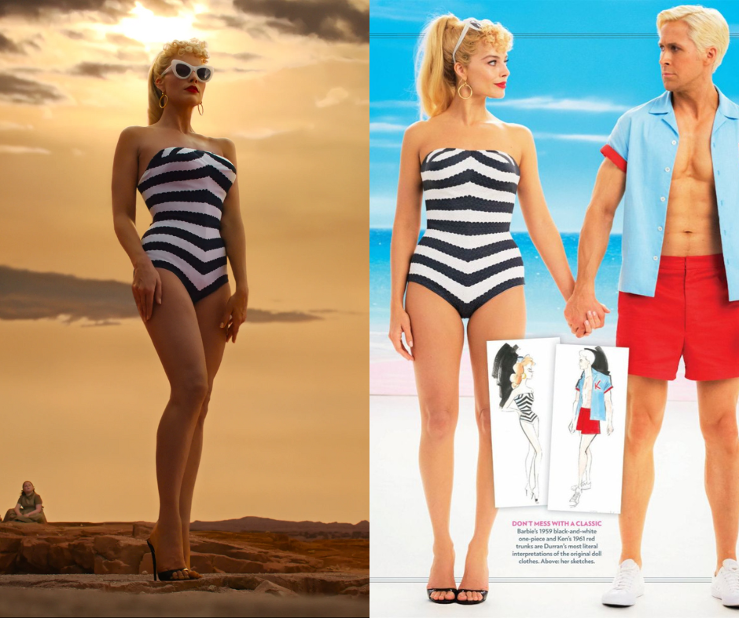 SOURCE: WARNER BROS. PICTURES
Beach like Barbie with this fabulous swimsuit! Our next DIY Barbie costume idea is this 1959 classic look featuring a black and white chevron striped one-piece swimsuit, cat-eye sunglasses, and heeled mules.
When recreating this look, make sure to select a good quality swimsuit fabric. As swimsuit fabric is a stretch, we recommend using an overlocker for those precise finishing touches. Also, a Ball Point Needle will assist if you find that the regular needles skip stitches. Our final tip? Be very careful with the placement of the fabric to create the perfect chevron pattern on the centre seam.
Completing the look, Barbie adds a pop of colour with a bright red lip and gold hoop earrings. This outfit will channel your inner Barbie with irresistible charm and completely unsuitable shoes!
DIY Barbie Costume Idea 4: Barbie's Collared Dress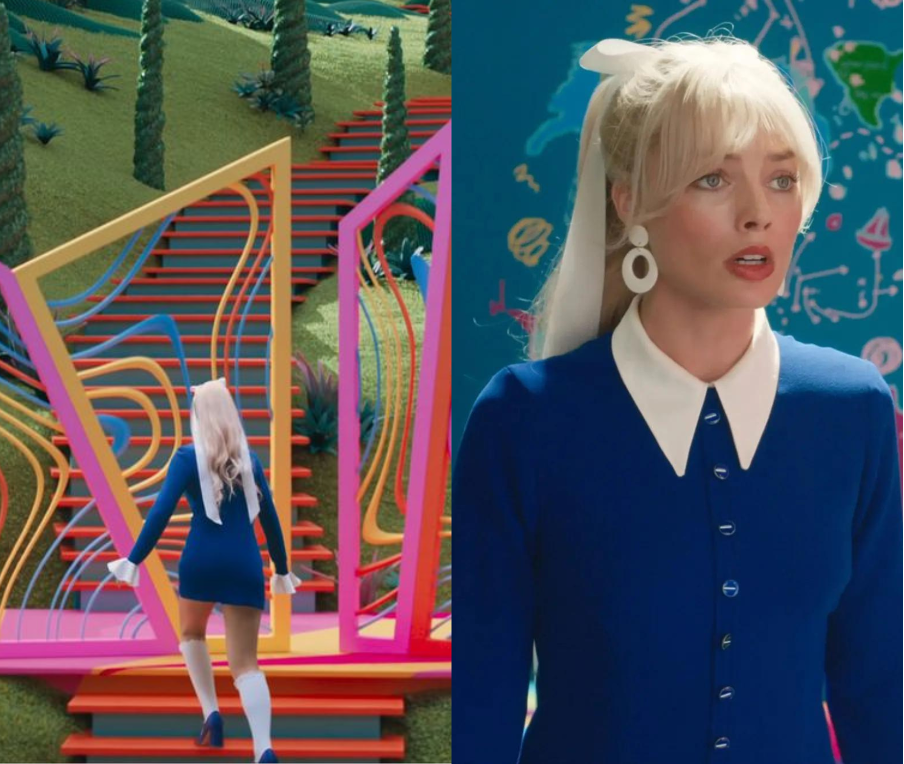 SOURCE: WARNER BROS. PICTURES
This long-sleeved navy blue 70's-inspired mini dress is an absolute must-have! With its distinct contrasting white details, such as the elegant collar and charming frilled cuffs, this dress exudes a timeless appeal.
When you bring this look to life, we recommend using a sewing machine with a 1-step buttonhole to make the process so much easier. For that perfect, sharp white collar, make sure you use interfacing to give it some structure. For the little white sleeve detail, make sure to add flounces to the end of the dress cuff.
Complementing the ensemble are statement earrings and the perfect waist-length hair bow. Embrace the essence of Barbie's iconic style with this retro DIY costume idea.
DIY Barbie Costume Idea 5: Weird Barbie Dress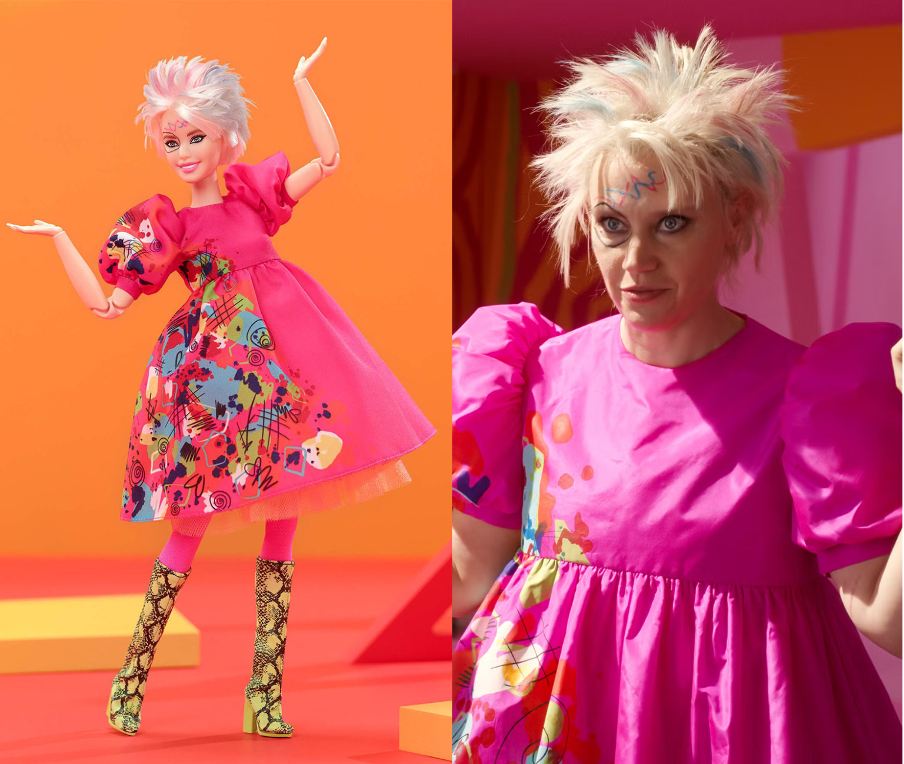 SOURCE: MATTEL; WARNER BROS. PICTURES
Looking for something a little more … weird? DIY your very own Weird Barbie costume.
Stand out from the crowd with a bright voluminous pink dress with puff sleeves, orange and yellow tulle hemline, and some crazy colourful artwork. To make it truly your own, add some original, weird embroidery designs using the EM9305 Embroidery Only Machine.
This DIY Barbie Costume also uses tulle. Make sure you use a rotary cutter to cut your pattern pieces. Then, use a longer stitch length and use a zig-zag stitch to get the best results. We also recommend using clips instead of pins as they will hold the tulle in place better.
Finally, the costume wouldn't be complete without pink tights, yellow snakeskin boots and best of all, colourful scribbles all over your face! This costume gives you the opportunity to think outside the (Barbie) box!
Ready to Create Your Own DIY Barbie Costume?
So grab your SINGER® sewing machine and gather your fabrics and supplies, and embark on a sewing journey sparked by the magic of the Barbie movie. Here at SINGER® we are always excited to see the wonderful costumes that our community creates. We're constantly checking our Instagram tagged posts and the hashtag #sewitwithsinger, to see your latest creations.